The Match Master 5 was introduced in 1992 to provide a slightly lighter version of the Match Master 3. The angled slabbed sides to the barrel give it the looks of the "Super Grade 2" without the weight. Developed to fulfill the requirements of 1500, Police Pistol and Precision events. A very popular option, which overtook the Match Master 3 in production volumes.
• 6" x 1" diameter Match grade barrel Slab-sided
• 8oz (228g) removable barrel weight
• Sprung ball-lock to the crane for tight cylinder lock-up.
• Cylinder aligned, timed and tightened
• Cylinder chamfering for speed-loaders.
• Tuned double-action
• Adjustable trigger stop with rubber damper to cushion the over-travel at
release to reduce trigger snatch.
• Aristocrat 3-position sight rib. With option of steel / aluminium and available
with integral "weaver" rail.
• Hogue Rubber Monogrip
• Available in both Blue and Stainless steel, built on all Smith & Wesson
Frame sizes (except .357 magnum K-Frames)
• Available on "selected" used frames with forged steel components or on a
brand new frame with MIM components.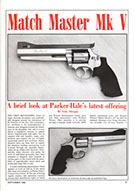 CLICK HERE TO READ ARTICLE

Copyright 2018 Wilson Custom Guns London England.
T: +44 1243 53 33 58
E: richard@wilsoncustomguns.com